HORMONES, HERBALS
& YOUR HEALTH:
A Natural Approach to Menopause Seminar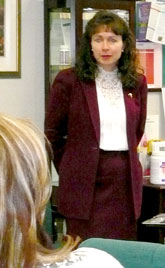 Dr. Wendy Rashidi, M.D.

is recognized in Suzanne Somers latest book "Ageless" as one of the region's experts in bio-identical hormones, and in the specialty of nutritional and functional medicine. This 2-hour seminar provides the information needed to better understand and make informed decisions about Menopause, the recent controversies, and whether hormone replacement may or may not be right for you. Options discussed will include herbal, nutritional and hormonal therapies, and will help you understand the differences between standard versus natural and bio-identical hormone prescriptions.